BACK TO PRECEDING PAGE
Location of the Centre
Click to enlarge picture

The "PROFOREST" Centre of Excellence located at the Forest Research Institute in Warsaw - and thereby in the middle of Europe's forests and of many pure and applied research problems of interest to the forest sciences - would facilitate contacts between scientists in the East and West, North and South of the continent. It would be possible to bring forest knowledge together here, to exchange details of methodologies and research techniques, to offer contacts between young researchers and students and to play host to meetings, workshops and seminars in regard to matters of the protection of forests and their resources. It would also permit a building of co-operation between scientists and practitioners of interdisciplinary research from EU, Poland, the NAS and other European countries. The activity here is already developing current achievements in the area of forestry and general ecology, increasing knowledge, teaching young researchers, expanding post-doctoral studies, developing new ideas and hypotheses and promoting new trends. We are also developing basic research in forestry, disseminating knowledge, extending further the co-operation among all the countries of Europe and promoting the holism of scientific progress.




Distribution of field departments of the FRI Warsaw over Poland




The red circle shows where the Proforest Centre is located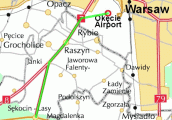 Many activities of the Proforest Centre proceed in the Sękocin-Las station of the FRI Warsaw. The green line shows (bottom of the map) where the station is located.




BACK TO PRECEDING PAGE